We are raising money to improve the lives of kid's living with kidney disease. Kids like Eli…
Hi Potential donators, 
The Kidney Kar Rally for Kidney Kids (KKR) 2022 commences in August 2022 at Cairns and finishes at Dubbo via Longreach and Gold Coast. You will note from the attached email that Kidney Health Australia has arranged for Supercars Championship driver, Lee Holdsworth getting behind the wheel of a rally car to join us on the first day on the Kidney Kar Rally.  
The rally arranges meetings at various community engagements and this year we will be visiting at least two state schools – where the cars are displayed and information on kidney health is discussed with the school children. Gifts can be arranged to be handed out to these children.  Impromptu addresses can be delivered to the children noting reasons for entering the rally and acknowledging major sponsors.  There would be photo opportunities at the Runaway Bay Sports Complex on the lay day in Gold Coast in order to promote the cause and the need for funding for the annual camp for these special kids.   
In 2019, Team Banana Benders (previous names  include  - Team Renewables - renewal of the kidney kids; Team Neworgan – again same theme ) attained overall 6th place in a field of 55 rally cars which was a great feat given it was our 3rd rally and my navigator's 1st year.  Rally 2020 and 2021 were cancelled due to COVID 19 restrictions, so this year is super important for raising funds for the kidney kids. Again this year I will be taking a navigator who will be competing for his first year- Ian Gudgeon from Gladstone who is looking forward to the adventure and supporting this great cause..
Our team will be providing the time and the rally car to participate in the rally whilst meeting the costs of repairs, fuel and accommodation all the journey.  We are hoping that the car will be as reliable as it was in previous years with no breakdowns on the rally.
To date, the donations for 2022 are minimal and we would like to raise a target of $10,000  which means there is still funds needed to get to our target and even more funds needed to exceed our target and the fund raising cut-off date is 30 July 2022.
Thanks for your reading this email and look forward for you supporting our team in the 2021 Kidney Kar Rally.
The donation funds can be contributed by following the link below:
The Kidney Kar Rally helps support kids like Eli by raising funds for our kids and youth programs.
Please help us to help them. Your sponsorship or donation is greatly appreciated.
Thank you to our Sponsors
Ian
Hydral Installations
Ian Gudgeon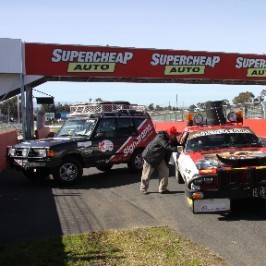 Michael Newman
Rotary Club Of Port Curtis
Dominic O'brien
Mike & Zou Little
Janine Paynter
John Morgan
Jodie Hope, Jack And Declan Newman
Steve Buchanan
Geoffrey Wood
Kobus Vermaak
Doug & Robyn Hopè
Paul Boles
Stephen Burton
Al And Christy Cook
Celie
Anonymous
Rob Buker
Somm Wine Store
David Kennddy
John Birrell
Christopher Bruton
Anonymous
Andrew Gilmour
Ann Fordyce & Mark Stephens
Maree Ferguson
Dave Taylor
Kevin And Cheryl Burrows
Davide Rossi
Krissy Day
Chook
Simon Beach
Thomas Philpot
Anonymous
Pierre Grouhel
Richard Edgley
Ian Quant
Anonymous
Todd Francis
Ruth Searston
Alison Dick
Cheryl Royal-scott
Rod And Lois Morris
Mal Edwards
Tj Kelly Surveys Pty Ltd
Keith Pallesen
Al & Beth Phillips
Les Mcmahon
Paul Telford
Anonymous
Trevor Krieger
Kieran O'connor
Peter Jackson
Tracey Holtum
Domenic Gallo
Graham Long
John & Annette Connellan
Anonymous
Rob Jen Rossi
Stu Gordon
Sarah Weise
Leanne St George
Jeffrey Hunt
Scott F Roberts
Marilyn Rayment
Joe & Vanessa Guinea
Anonymous
Mandy Johnson
Cristian Duclos
Ian Sawley
John Patane
Robyn Heyting
Paul Teklenburg
Pam Boyd
Alf Gudgeon
Clint Charles
Dave Fredrickson
Maree Deane
Kylie Devney